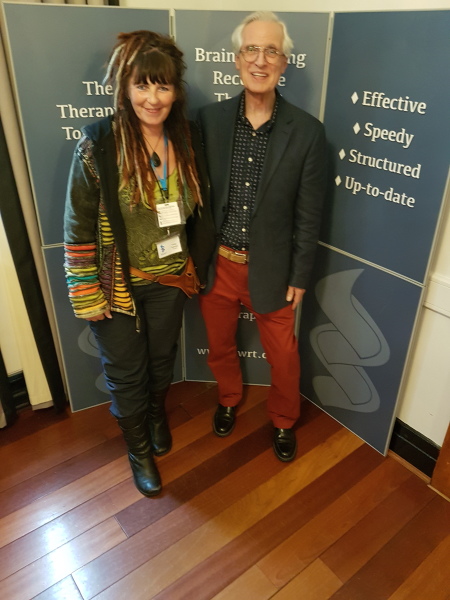 BWRT​​​​​® stands for 'BrainWorking Recursive Therapy, a model of psychology and pychotherapy created by UK professional therapist, Terence Watts, MCGI.  It's a totally confidential method that doesn't require you to reveal your private information or personal secrets to your therapist, and is carried out in a completely conscious state.  It doesn't use hypnosis or any mystical concepts - its completely logical, practical and down-to-earth, and only needs you to know what you want to change in your life for it to be completely successful.  Only Certificed Practitioners have been trained to deliver BWRT and all have to ahdere to astrict ethical code.  Find out more at www.bwrt.org .  ​

As a registered BWRT practitioner, I will be able to help you using this very modern technique.  It can be used with troubling memories and experiences, fears and phobias, relationship issues, commitment phobia, mild depression, general anxiety, test nerves, fear of dentists, needles, addictions such as smoking etc.  It can also help with such things as motivation, fear of failure and success inhibition to name but a few.

It's a very quick and effective therapy, sometimes needing only one or two sessions with level 1 work.  
Level 2 work will require more sessions and this can be discussed at your initial appointment.
    

Vicky Tunaley and Terence Watts

BWRT Level 1 can help with the following areas:​​

        All types of Performance Anxiety
        Commitment Anxiety
        Exam anxiety
        Fear of Authority
        Fear of failure
        Generalised anxiety disorder
        Grief
        Panic attacks
        Phobias
        PTSD
        Relationship Issues
        Self Worth/Self-Confidence Issues
        Social Phobia
        Success Inhibition
    

​​​​​

CONTACT ME TODAY FOR MORE INFORMATION
BWRT Level 2 can help with the following areas:​​

        Addictions
        Alcoholism
        Binge eating and drinking
        Bullying (relationship or school)
        Depression
        Eating Disorders
        Fetishism
        Gambling
        Masturbation fixation
        OCD
        Porn addiction
        Postnatal Depression
        Sexual obsession/addiction
        Substance Abuse

"Before my session of BWRT with Vicky I was consumed by jealousy and rage. It really prevented me from enjoying myself at all in the best years of my life with the people I loved the most. But after just one session of BWRT with Vicky I can finally be myself again! Such a fast acting and effective therapy, I would strongly recommend this to anyone in the Leicestershire area Vicky is a brilliant therapist and made me feel comfortable to share everything I needed too instantly ! :)"
EM, Hinckley